Rock City
Map overview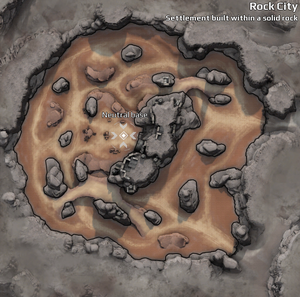 Rock City is a Crossout map.
Overview[]
A large city built directly into the rock formations surrounding, Rock City is an encounter map where you have to take the central control point or defeat all the enemies to win. The map is fairly large and offers plenty of cover on approach to the control point, winding through canyons, with the areas surrounding the plateau and entrance to the city (where the control point is) surrounded by ledges where players can provide sniper fire and attack those on the control point.
Strategies[]
The approach to the control point tends to be a bloodbath, as it's naturally where most of the drivers congregate and come to blows.
You can hide effectively from ledge gunners behind the prefab buildings on the ground. All you have to worry about are the incoming visitors on the ground.