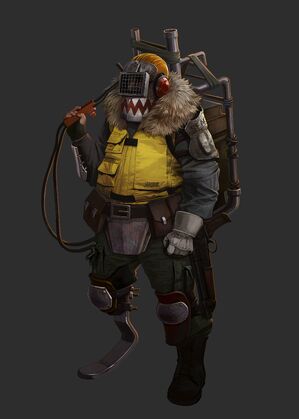 Provide other factions with artifacts of the old world. They unearth old military warehouses, cut into containers, dismantle factories down to the last screw. All that is in working condition is delivered up the "food chain" or sold on the black market. Whatever remains is repaired and mounted on their cars.
Scavengers belong to the lowest branch of the Brotherhood military organization; however, in reality, they bargain with everyone. They unearth old military bases, cut containers open, and even dissect whole factories. Everything that works is transferred up the chain or sold on the black market. Anything that's left is mended and welded to the rides. The loot is transported on trucks armored with the wreckage: containers, pipes and other heavy rummage. Scavengers use World War guns for weaponry.
Leader
[
]
Name: Scar AB
Title: The Collector
He's travelled a lot and seen a lot. Survivors say that he's got as far as the Western Sea. He's been into different factions, made it to decent ranks in Kaganate, and lost his leg in a dispute with Khan. As a result, he was forced to run over hills with the loot, which turned out enough to bargain a soft spot in the Brotherhood and also a decent prosthesis.
However, later, due to his ill temper, Scar was exiled back to the West—or, to be more exact, sent there with an important mission as a leader of a scavenger vanguard. Bey was more than happy with it: he could easily exchange his loot on the black market, while the Headquarters closed its eyes to it, as long as he fulfilled the norm.
Now, Scar has relaxed a bit and engaged more in collecting, although he never really mentions exactly why he needs those fancy artefacts, which he later exchanges for some quite valuable stuff on the market.
Overview
[
]
If Lunatics prize speed and focus on hit and run tactics, Scavengers are the polar opposite. Their vehicles are designed to withstand a lot of punishment as they wade into the fray and draw fire, while delivering plenty of their own.
The Scavengers are well known, and are the choice, for producing cannons. The 76mm "Judge", the 88mm "Executioner", the ZS-34 Fat Man, , and the Mammoth all come from the Scavengers.
The Trucker is their main cabin. Combining high durability, impressive tonnage, and a good amount of energy (9 energy points), the Trucker is an ideal cabin for mounting heavier weapons and making more heavily-armoured vehicles.
The Twin Wheel and the Large wheel are the wheels they produce. While not exactly recommended for lighter cabins, as they are heavy, they add impressive amounts of tonnage.
- The Twin Wheel is very low to the ground, light, tough and has a very wide turn radius at high speeds
- The Large Wheel makes for a bigger target, but offers huge tonnage and a higher vantage point.
Workbenches
[
]
Scavenger outpost
Scavenger camp
Scavenger standard (2 h.)

ZS-34 Fat Man
Scavenger HQ
Vehicle blueprints
[
]
Howler

Stag

Crack-scull

Rhino

Giant

The Rock
Equipment
[
]
Level 1

Co-driver

Stone-deaf

Half-wall

x2

T-pipe

x4

Truck slope

x2

Curved pipe

x4
Level 2

Dozer

profile portrait.

Straight pipe

x2

Quarter wall

x2

Terribull bar

Wide slope
Level 3

Barrel quarter

x2

T-pipe

x2

Large slope

x4

Curved pipe

x2
Level 4

Truck door

x2

Quarter wall

x2

Wide slope

[Truck slope]] x2
Level 5

Straight pipe

x2

Truck door

x2

Metal box

x2

Half-wall

x2
Level 6

Large fender

x2

T-pipe

x2

Barrel quarter

x2

Truck slope

x2
Level 7

Owl

profile portrait.

Quarter wall

x2

Thick pipe mudguard

x2
Level 8

Terribull bar

Wide slope

x2

Barrel quarter

x2

Half-wall

x2
Level 9

Pipe shield

x2

Metal box

x2

Large slope

x2

Twin slope

x2
Level 10

Unlocks faction Steppenwolfs.

Large fender

x2

Barrel Quarter

x2

Long pipe shield

x2

Curved pipe

x2
Level 11

Quarter wall

x2

Truck slope

x2

T-pipe

x2

Curved pipe

x2
Level 12

Straight pipe

x2

Barrel quarter

] x2

Large slope

x2

Container wall

x2
Level 13

Long pipe shield

x2

Truck slope

x2

Straight pipe

x2
Level 14

Large fender

x2

Pipe shield

x2

Twin slope

x2
Level 15

Thermite

profile portrait.

Thick pipe mudguard

x2